Are you one of those people who have heard about boudoir and you think it is a form of photography, where the photographer is taking pictures of couples having sex? Or someone taking naked pictures of a woman? If so, then you need to be educated.
What is Boudoir?
Boudoir is a style of photography for individuals (men and women), who want to see themselves as desirable. It is an art form that has taken the world by storm in recent years.
Boudoir is defined by Webster's Dictionary as a woman's dressing room, bedroom, or private sitting room. Which is where the term came from. Over the years it has taken a different mentality to be more an intimate moment in time of a woman, a man, or even a couple.
Naked?
So does this mean that a person has to be naked for the shoot? Absolutely not! This is the common misconception of boudoir, is that a shoot can be however you feel sexy. I have taken photos of women full dressed in an oversized sweater, to women who really wanted to have an implied nude shot. It is all about comfort level. What is it you want to show off, and what do you not want to show off.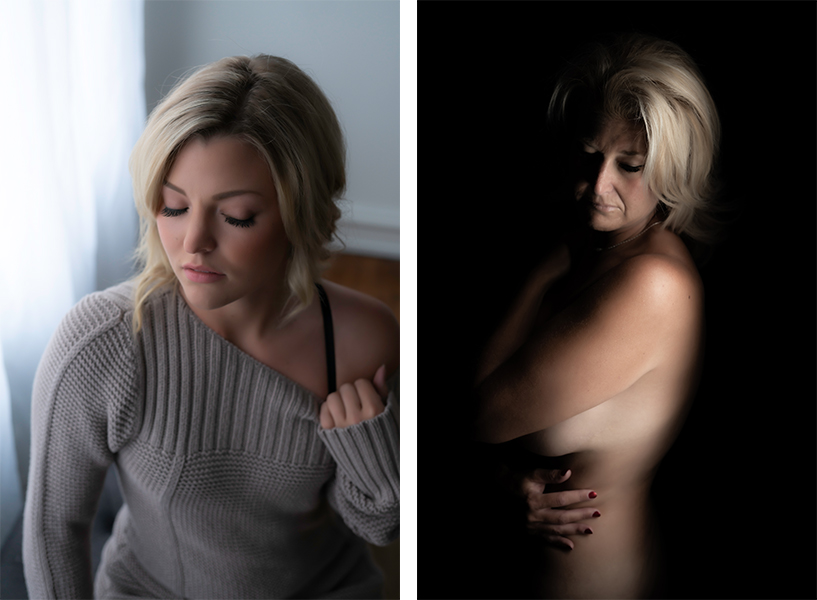 The one thing you have to be careful with is, if a photographer forces you to get nude without discussing that before the session, then you are dealing with someone who does not have your best intentions at heart and you need to walk away. Do not feel obligated to strip anymore than you feel comfortable, or what you are wanting from your session.
Sex?
I have heard of some photographers that shoot couples having sex at their sessions. BUT we don't. I have done couple's sessions and it is more implied than anything beyond that. We get poses down and then freeze, don't move! We don't pose in any position to get intimate. As an example, the below image shows one of our couples, that looks like, we captured them in the middle of an intimate moment, but if you were there, you would see that is not the case. We asked the couple to get in this pose and then hold it, while I took several shots from different angles. After I took the shots, they laughed at how funny it was to hold that pose.

Pervert?
One of the struggles I face is that I am a male photographer. And I have to combat the stigma of being the GWC (Guys with Cameras). I have seen these photographers and they are out there. Do your research, meet with them before your session, and get testimonials from others who have had a session. Photos like these are meant to heal emotionally and mentally. They are not to hurt or pleasure someone else. I have had male friends of mine, who found out what I do and asked to be an assistant. I take offense to that. The human body is beautiful in all shapes and sizes. A true Boudoir photographer will show you that.
Slut! Whore!
Boudoir photos are a beautiful form of artistry and we love it. But it never has to be put in public display. We respect your privacy and will do everything to preserve that. Your photos are you and you alone. If you want it to remain private, it will. We have been blessed to have so many who are willing to share them and allow others to see what we have come up with. It is pure art. We have even won awards for our images (one such image is below).
So if you have been on the edge of booking a boudoir session, we can help. Just reach out and ask questions. We are here to help, and to not shoot Porn.